De viktigaste cannabinoiderna från hampaplantan
Vad är cannabinoider?
Cannabinoider består av olika kemiska föreningar som förekommer naturligt i cannabisväxten och påminner om ett ämne som finns naturligt i vår människokropp. Dessa kallas för endocannabinoider och har visat sig spela en viktig roll för kroppens funktion. Hittills har man kunna isolera minst 113 olika cannabinoider från hampaplantan som har olika egenskaper. Här följer en översikt med information om de mest välstuderade cannabinoiderna och deras effekt [1]. Du kan läsa mer om ekologisk cannabis här och medicinsk cannabis i den här artikeln.

Tetrahydrocannabinol (THC)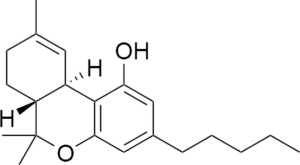 Som sagt så känner man idag till över 100 olika cannabinoider. THC är förmodligen den mest studerade cannabinoiden och anses ha betydande medicinska egenskaper såsom [2] [3]:
stark effekt på psyket
smärtlindrande
främja avkoppling
lindra illamående
lindra nervsmärtor
stimulera aptiten
hjälpa till vid muskelkramper
stödja tillväxten av nya nervceller
försvaga vissa former av cancer
reducera glaukom (grön starr)
Cannabidiol (CBD)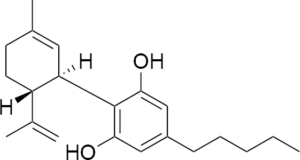 Cannabidiol (CBD) är efter THC, den andra mest välstuderade cannabinoiden och är dessutom en så kallad icke-psykoaktiv cannabinoid. Detta gör att den inte ger någon dig berusadndeffekt eller känsla av att vara "hög". Vill du veta mer om cannabidiol kan du läsa mer i vår artikel om CBD olja. CBD anses bland annat ge följande positiva effekter på vår hälsa [4][5]:
Minska och hämma inflammation
Lindra epilepsi
Minska smärta
Dämpa illamående
Sänka höga blodsockernivåer
Stimulera benstrukturen
Ha en stödjande effekt i cancerterapi
Cannabichromene (CBC)

Cannabichromene (CBC) anses vara den mest rikligt förekommande cannabinoidsubstansen i cannabisplantan och är liksom CBD en icke psykoaktiv cannabinoid. CBC antas ha följande egenskaper [6]:
antibakteriell
antiinflammatorisk
verka lugnande
smärtstillande effekt (dock endast i kombination med THC)
motverka svamp
antidepressiv
antitumoral (motverkar tumörer)
skelettstärkande
främja cellförnyelse
främja blodcellernas funktion
Cannabinol (CBN)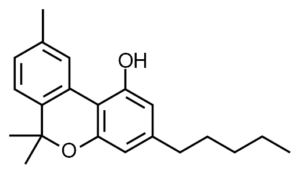 CBN har en berusande effekt och är en oxidationsprodukt av THC. CBN har bland annat följande effekter på kroppen [7]:
stimulera aptiten
antibakteriell
dämpa smärta
minska inflammation
anti-astmatisk
muskelavslappnande
lugnande
Cannabigerol (CBG)

CBG är inte en psykoaktiv cannabinoid och är främst tillgänglig hos unga cannabisplantor. Nuvarande forskningen tyder på att CBG kan [8]:
ha en antibakteriell effekt
motverka svamp
lindra smärta (mer effektivt än THC)
ha en måttligt antidepressiv effekt
ha antitumorala egenskaper (motverka tumörer)
vara en möjlig behandling för psoriasis
Tetrahydrocannabivarin (THCV)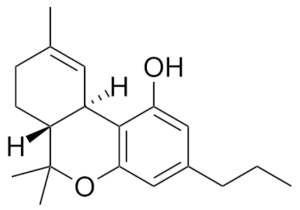 THCV har en låg psykoaktiv effekt om man jämför den med THC (ca 20 procent av THC:s effekt) Man har genom ny forskning funnit tecken på att THCV skulle kunna mildra de negativa effekterna av THC. Denna THCV substans tros bland annat besitta följande postiva effekter:
kramplösande
nervskyddande
aptitnedsättande
stimulerar metabolismen
hjälper till med viktminskning
vara en möjlig hjälp för diabetiker
---
Izzo, A.A., Borrelli, F., Capasso, R., Di Marzo, V., Mechoulam, R. (2009). Non-psychotropic plant cannabinoids: new therapeutic opportunities from an ancient herb. Trends in Pharmacological Sciences, 30(10). 515-527. https://doi.org/10.1016/j.tips.2009.07.006.
Sarne, Y. (2019). Beneficial and deleterious effects of cannabinoids in the brain: the case of ultra-low dose THC. Am J Drug Alcohol Abuse.(13). 1-12. doi:10.1080/00952990.2019.1578366.
Marcu, J.P., Christian, R.T., Lau, D., Zielinski, A.J., Horowitz, M.P., Lee, J., Pakdel, A., Allison, J., Limbad, C., Moore, D.H., Yount, G.L., Desprez, P.Y., McAllister, S.D. (2010). Cannabidiol enhances the inhibitory effects of delta9-tetrahydrocannabinol on human glioblastoma cell proliferation and survival. Mol Cancer Ther. 9(1):180-9. doi: 10.1158/1535-7163.MCT-09-0407.
Kogan, N.M., Mechoulam, R. (2007). Cannabinoids in health and disease. Dialogues Clin Neurosci. 9(4).413-30. https://www.ncbi.nlm.nih.gov/pubmed/18286801
Kaur, R., Ambwani, S.R., Singh, S. (2016). Endocannabinoid System: A Multi-Facet Therapeutic Target. Curr Clin Pharmacol.11(2). 110-7. https://www.ncbi.nlm.nih.gov/pubmed/27086601
Shinjyo, N., Di Marzo, V. (2013). The effect of cannabichromene on adult neural stem/progenitor cells. Neurochem Int. 63(5):432-7. doi:10.1016/j.neuint.2013.08.002.
Shinjyo, N., Di Marzo, V. (2013). The effect of cannabichromene on adult neural stem/progenitor cells. Neurochem Int. 63(5):432-7. doi:10.1016/j.neuint.2013.08.002.
El-Alfy, A.T., Ivey, K., Robinson, K.,  Ahmed, S., Radwan, M., Slade, D., Khan, I., ElSohly, M., Ross, S. (2010). Antidepressant-like effect of Δ9-tetrahydrocannabinol and other cannabinoids isolated from Cannabis sativa L.,Pharmacology Biochemistry and Behavior, (95)4. 434-442. https://doi.org/10.1016/j.pbb.2010.03.004.